AGROCARB 40 -VA - Calcium fertilizer

Manufacturer: OMYA CZ s.r.o.
Country of origin: Czech Republic
Exclusive representation in the agriculture and forestry segment: SIVUS s.r.o.
Registration decision number: 4039

Chemical and physical properties:
content of CaCO + MgCO in the dry sample in % 3 3 min. 90.0
of which MgCO in dry. sample in % 3 max. 1.0
particles below 0.5 mm in % min. 25.0
particles over 1 mm in % max. 20.0
humidity in % max. 10.0

Content of risk elements:
Meets the statutory limits in mg/kg of dried fertilizer sample: cadmium 1.5; lead 30; mercury 0.5;
arsenic 20; chrome 50.
Scope and method of use:
It is used as a fertilizer to adjust the soil reaction, to improve the physico-chemical properties of the soil.
When used in agriculture, it mainly adjusts the pH of the soil, stabilizes the soil structure, and strengthens biological activity
soil, enables better management of soil moisture, supports better use of fertilizers and improves harvest quality.
It is particularly suitable for application on medium and lighter soils and grasslands. It serves as a material
neutralizing effect of acidic industrial exhalates. Doses of calcium fertilizers are governed by soil pH
the type and requirements of the cultivated crops. The application associated with rooting is carried out after harvest.
AGROCARB 40 - VA is recommended to be applied with disc spreaders.
The company SIVUS s.r.o. will ensure the application itself with a BREDAL machine with variable dosage
as required.
Classification of the substance or mixture:
According to Regulation EC 1272/2008, limestone is not a dangerous chemical substance or mixture.
Marking according to Regulation EC 1272/2008:
In accordance with the EC regulation or relevant national regulations, the product does not need to be marked.
Packaging and shipping:
The product is delivered in bulk and transported by trucks.
Mass:
It is listed in the delivery note.
Storage:
Fertilizer is stored in warehouses or on land designated for its application.
Batch Number:
For a bulk product, it can be replaced by the date of issue of the delivery note or stated on the invoice.
This product can be used in organic farming according to Council Regulation (EC) No. 834/2007
and Commission Regulation (EC) No. 889/2008 on organic production and labeling of organic products.

Contact:
Ing. Josef Hlavácek
Phone: +420 605 820 340
E-mail: obchod@sivus.cz
SIVUS s.r.o.
ID number: 08344876
VAT number: CZ08344876
Na Balkan 2530/78, 130 00 Prague 3
www.sivus.cz
Commodities
Trading in plant commodities (cereals, rape, hay, straw, potatoes, corn, sunflowers) represents for SIVUS s.r.o. one of the main activities.

 Distillery stillage
Organic fertilizer of plant origin arising from the production of alcohol and ethanol.
Due to their composition and form (slow burning K and N) they are suitable for both basic autumn fertilization and spring fertilization.
Crushed limestone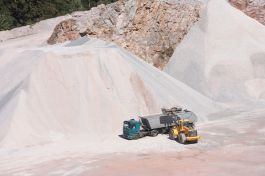 Use:
• Natural fertilizer with high calcium and magnesium content
• increases the amount of microorganisms and eliminates the effect of acidic fertilizers such as ammonium sulphate
• for successful plant growth